Click on the link for larger image
http://pandorasbaublesandbeads.com/wp-content/uploads/2018/01/February-2018-Class-Schedule.pdf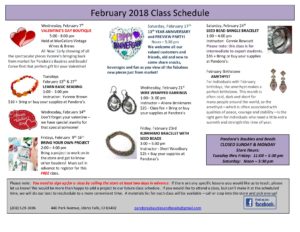 Pandora's Baubles and Beads offers a variety of courses in jewelry design and crafting from the beginner to the advanced level student.
All of our classes are led by highly skilled instructors, and are intended to be educational and entertaining.  Sign up for a class HERE, or by giving us a call: (208) 529-3696.
Course Guidelines and Benefits Include:
You must sign up for the class at least two days in advance in order to secure your place

Receive 15% off your supplies when purchased at Pandora's
We offer Bring Your Own Project night every Friday from around 3:30 PM – 5:30 PM. This Free Event includes some of Idaho's best beaders to offer instruction and help when needed.